Simple Point-and-Click Specifications
Writing a valid operable wall specification is as easy as 1-2-3, with DWSpec™, our new web-enabled Specification writing application. As a web-based program, it requires no special software or downloads, and will produce a single, complete, error-free specification of your project– even for projects that have multiple walls with differing characteristics.
All you have to do is enter the project name, the opening dimensions and the proposed location of the operable wall, and point and click your way to a valid, error-free specification. You can enter characteristics for multiple walls of differing sizes and get one comprehensive specification identifying each wall and its features by location. There is now no need to edit a spec or merge multiple specs in order to create a complete project specification.
The application constantly updates itself based upon your previous entries and presents only valid options for continued selection. Therefore, common errors such as opening height exceeding limits of panel construction, panel weight exceeding trolley capacity, panel finish inappropriate for panel type or panel construction inappropriate for configuration are completely eliminated. When generated, the finished specification is then formatted as a rich-text-format document, (such as Microsoft Word) and emailed to the user. Launch DWSpec™.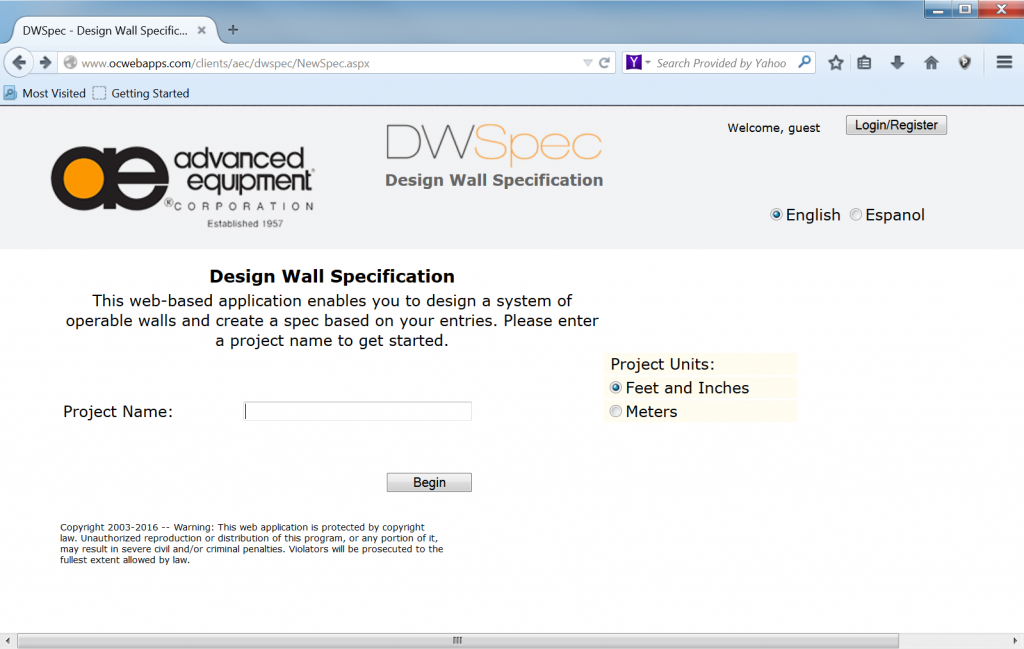 Advanced Equipment is dedicated to the concept that we must always equip our customers with superior operable walls – operable walls which enhance the customer's accomplishments.
Call For a Quote:
(714) 635-5350