To select the appropriate operable wall for your project, follow these six simple steps:
   1. Select Manual or Electric Operation
   2. Determine the Configuration
   3. Select a Panel Construction
   4. Select a Panel Width
   5. Determine the Track
   6. Include Details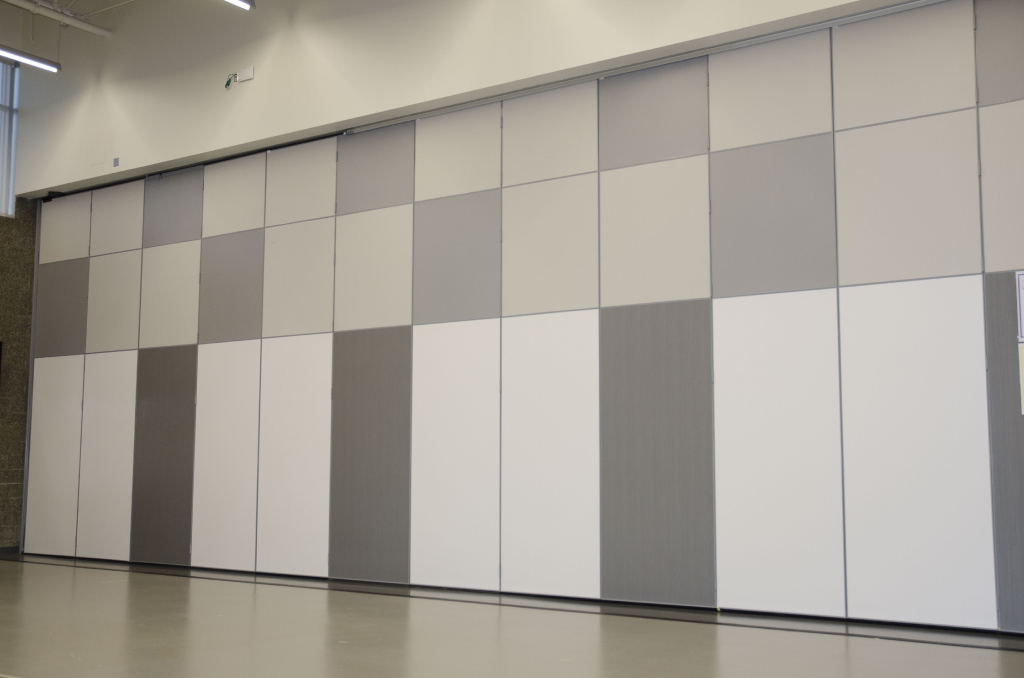 1. Manual or Electric Operation
If the operable walls must be stored in a location removed from the wall set up or if when the walls are stored the panels will not be centered under the track then manual operation must be utilized. Electric operation is suitable only for center-stacked walls, either folding one way or bi-parting.
Assuming storage space is suitable for electric operation, then consider opening size, time available for set-up/take-down, maintenance cost potential, and economics. Electric operable walls should normally be reserved for openings having a width of more than 40 feet and a height of 12 feet or greater. Above these dimensions, the economics penalty is not severe and when heights reach about 25 feet there is little cost differential between electric and manual.
Since electric operation has a designed-in travel speed, the potential for operational abuse is minimized. Operators of intensely used facilities such as Hotel Ballroom/Meeting space and Convention Centers have reported electric walls have a lower maintenance cost factor than manual walls.
A prime benefit of electric walls on wide openings is the rapid set-up time; for example, one person can set up a one hundred foot wide wall in four minutes simply by turning a key.
2. Configuration
Having decided the operation feature, the configuration required is also settled if the operation is electric. If operation is manual, configuration may be selected primarily on the availability of storage space, room function, economics and aesthetics.
The order of ascending cost for configuration is: center, side and remote storage. The function or appearance of the room being divided may be such as to preclude exposed stack arrangement. Perhaps storage within pockets, with or without pocket doors, will satisfy that objection.
For heights of more than 18 feet, individual panels are usually preferred to paired panels so, for such heights, side stacked or remote storage will be used and center stacking will not be used.
If your application is for one hour fire-rated wall, the operation must be manual individual panels.
Side Stack
Manual Operation
Paired Panel
Floor Track Required

Side Stack
Manual Operation
Individual Panel
Center Stack
Manual or Electric
Manual – hinged as groups
Electric – continuously hinged

Example of Remote Stacks
Manual Operation
Individual Panel

Note: Although not depicted, all operable wall configurations can be stored in storage pockets either with pocket doors or without.
3. Panel Construction
When you anticipate noise isolation of Amplified Sound or require the best in long-term durability dictated by intensive usage and exposure to impact or other abuse, select the panel construction from the ALPHA series. Normally this is the "S" panel with 16 gauge steel faces; 14 gauge steel faces for exhibit areas. If sound absorption is needed in conjunction with superior noise isolation, select "P" panel with its 14 gauge steel faces, one perforated, and cover the perforated face with an acoustically transparent fabric or wall carpet.
If you have selected Electric Operation, the panel selection should be made from ALPHA or SIGMA series panels.
If the wall is to be one hour fire-rated then the panel construction must be designated as "X". There are a number of restrictions about the use of fire rated operable walls, so contact Advanced Equipment early in your design for assistance.
Assuming your application does not require the performance of ALPHA panels, a selection can then be made from the SIGMA series panels. SIGMA series panels utilize the same frame members as furnished with ALPHA panels but weld spacing and face sheet thickness are different.  These panels are less expensive than the ALPHA panels, but durability and service life are not compromised.
Both the ALPHA and SIGMA panels are available with protective vertical edge trim or with trim that does not overlap onto the panel face (finish wraps around the vertical edge).
4. Panel Widths
Available storage space is the prime consideration here. The wider the panels, the wider the storage space and the shallower the depth. For economic reasons, the panel width should be as wide as possible, up to 48 inches. Above 48 inches, consider the width of the finish material you plan to use. Most vinyl wall covering is 54 inches wide and therefore that is the upper limit for panels with vinyl finish. Many woven fabrics and wall carpets are 60 or more inches wide, so the panels can be up to 60 inches wide. Maximum available panel width for ALPHA panel is 60 inches. SIGMA panels are limited to maximum panel width of 54 inches. Actual panel width will be determined by the opening size, wall configuration and number of panels.
5. Track
Specified track and trolley system must be capable of carrying the loads imposed by the panel weight. Not all track systems offered by Advanced Equipment can be used with each type of wall operation. Refer to the track selection chart on this web site for assistance in selecting the appropriate track for your project. A brief listing of the available tracks, trolley capacity and their operational use is as follows:
| | | |
| --- | --- | --- |
| #1 Track | 800 lb. | Manual or electric operation. Individual, hinged panel groups or continuously hinged configuration. |
| #1A Track | 900 lb. | Manual or electric operation. Individual, hinged panel groups or continuously hinged configuration. |
| #2 Track | 600 lb. | Manual operation. Individual or paired panel configuration. |
| #8B Track | 1,500 lb. | Manual or electric operation. Individual, hinged panel groups or continuously hinged configuration. |
| #3 Track | 500 lb. | Manual operation. Individual panel configuration. |
| #5 Track | 1,800 lb. | Electric operation. Continuously hinged configuration. |
| #6 Track | 6,000 lb. | Electric operation. Continuously hinged configuration. |
| #8 Track | 1,700 lb. | Manual or electric operation. Individual, hinged panel groups or continuously hinged configuration. |
When utilized with individual panel configurations, tracks # 1, 1A, 8B, 2 and 8 employ curved turns. Trolleys are preprogrammed to automatically select the appropriate stack track when passing through the stack wye (Y). Change in panel travel direction is accomplished by means of remotely controlled electric track switches.
Track #3 is a multi-directional track system. Typical of multi-directional systems, it requires those who operate it to make conscious decisions as to directional changes: it may also permits accidental reversal of panels. Turns and intersections are angular. These sharp turns will allow impact loads to trolley and track intersection if the panel operator does not take care when moving panels. AEC limits use of #3 track to heights of less than18 feet.
Where practical, the designer should elect to use tracks with curves, Y's and track switches. These systems provide for automatic directional control and avoid the operational impact opportunities which are characteristic of multi-directional systems.
6. Details
™Panel finishes available by panel family are as follows:
| | | |
| --- | --- | --- |
| | ALPHA | SIGMA |
| Vinyl Wall Covering – AEC Standard | X | X |
| Vinyl Wall Covering – Arch/Customer selected | X | X |
| Wall Carpet – AEC Standard | X | X |
| Wall Carpet – Arch/Customer selected | X | X |
| Wood Veneer – Arch/Customer selected | X | X |
| Woven Fabric – AEC Standard | X | X |
| Woven Fabric – Arch/Customer selected | X | X |
| Plastic Laminate – Arch/Customer selected | X | X |
| Prime Paint – for field finish | X | X |
In addition to the above finishes, AEC will also apply special finishes that may be a combination of any of the above types.
Standard track soffit finish for all tracks is clear satin anodized. All tracks can be furnished with a white paint finish. All tracks can be furnished with optional polyester powder coat finish either standard RAL color or custom color.
Panel perimeter trim finish standards are clear satin anodized or bronze anodized. Optional finish is polyester powder coat either standard color or a custom color.
Options:
The following are available on either manual or electric walls:
1. Mechanical retractable bottom seals
2. Passdoors
Self Illuminating Exit Sign
Concealed Door Closer
Deadlocks
Door Viewer (peep-hole)
Window
3. Pocket Doors
4. Instructional Surfaces
Chalkboards*
Liquid Marker Boards*
Tackboards*
Eraser Pocket
*specified height or full panel height
The following are available on electric walls:
Lead panel safety edge
Storage area safety mat
Electric interlocks for pocket doors
Electric interlocks for intersecting walls
Light fence
Advanced Equipment's DWSpec™ is the easy way to design and write a specification for an operable wall. The wall characteristics are established as the operator answers a series of simple questions. The program will then offer several storage options for the designer to consider and print both specification and plan view schematic for the wall. The designer need determine only operation and configuration. Click here to access DWSpec™.

Simple Point-and-Click Specifications
Writing a valid operable wall specification is as easy as 1-2-3, with DWSpec™, our new web-enabled Specification writing application. As a web-based program, it requires no special software or downloads, and will produce a single, complete, error-free specification of your project– even for projects that have multiple walls with differing characteristics.
All you have to do is enter the project name, the opening dimensions and the proposed location of the operable wall, and point and click your way to a valid, error-free specification. You can enter characteristics for multiple walls of differing sizes and get one comprehensive specification identifying each wall and its features by location. There is now no need to edit a spec or merge multiple specs in order to create a complete project specification.
The application constantly updates itself based upon your previous entries and presents only valid options for continued selection. Therefore, common errors such as opening height exceeding limits of panel construction, panel weight exceeding trolley capacity, panel finish inappropriate for panel type or panel construction inappropriate for configuration are completely eliminated. When generated, the finished specification is then formatted as a rich-text-format document, (such as Microsoft Word) and emailed to the user. Launch DWSpec™.